Emergency Info
Emergency Contact Information
After Hours Nursing Paging
250-934-6372
Forest Fire Reporting
1-800-663-5555
Conservation Officer – Reporting wildlife-human conflict, poaching and pollution
1-877-952-7277 or 250-286-7630
Department of Fisheries and Oceans
1-800-465-4336 or 250-850-5701
Coast Guard – Search and Rescue
1-800-567-5111 or 1-250-413-8933
EMERGENCY PREPAREDNESS INFO
For more emergency information, you could also go to www.getprepared.ca or www.pep.bc.ca.
If an emergency happens in our community, it may take emergency workers some time to reach you. You should be prepared to take care of yourself and your family for a minimum of 72 hours. Become better prepared to face a range of emergencies – anytime, anywhere. Every household needs to have an emergency plan. It will help you and your family know what to do in case of an emergency. Your family may not be together when an emergency occurs. Plan how to meet and how to contact one another, and discuss what you would do in different situations. Have a plan on where to evacuate in an emergency situation, depending on the time available. Have a grab-and-go bag ready at all times in your home. Have bottled water available. If you have any questions about emergency preparedness feel free to call the Village of Tahsis at 250-934-6344. Your question will be passed on to trained emergency personnel who will call you back.
VOLUNTEER FIRE DEPARTMENT
Emergency Phone: 911
Non-Emergency Phone: (250) 202-9618
The Tahsis Volunteer Fire Department was established in 1962. The fully equipped fire station has two fire trucks and a full complement of volunteers. In the event of a fire or emergency, 911 will page the volunteers. Response time is less than 10 minutes. In addition to the primary firefighting duties, the Fire Department is active as a service organization, monitoring community bonfire events and taking Santa around town to give out candy and presents at the annual community Christmas party. The Fire Department also works to raise public awareness with an active Fire Prevention Program and raise money for Muscular Dystrophy year-round.
Nootka Sound RCMP
Emergency Phone: 911
Non-Emergency Phone: 1-877-283-2227
The Village of Tahsis is policed by the Nootka Sound RCMP with its main office located in Gold River. The detachment is comprised of a Sergeant, Corporal and 4 Constables which maintain a visible presence in Tahsis both on the roads, the water and conducting bike patrols in the community. The dedicated members of the Nootka Sound detachment can be regularly seen in Tahsis participating in community events including the weekly hot lunch program at the Captain Meares Elementary Secondary School, Tahsis Days, and Remembrance Day Ceremonies among others. The Nootka Sound detachment is supported by the West Coast Marine Services, North Island Traffic Services, North Island Integrated Road Safety Unit and RCMP based Victim Services. Appointments for such things as Criminal Record Checks and Victim Services can be made by contacting the non-emergency telephone number at 1-877-283-2227. If you have an emergency please call 911 where your call will be answered by an Operational Communications Dispatcher. If you have information regarding a crime and wish to remain anonymous you can contact Crime Stoppers at 1-800-222-8477.
Nootka Sound RCMP: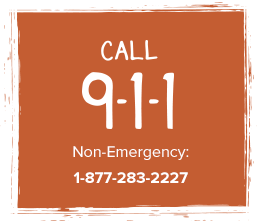 Ambulance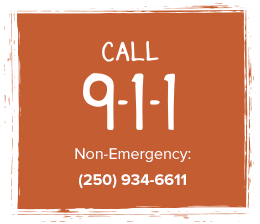 Tahsis Volunteer Fire Department: